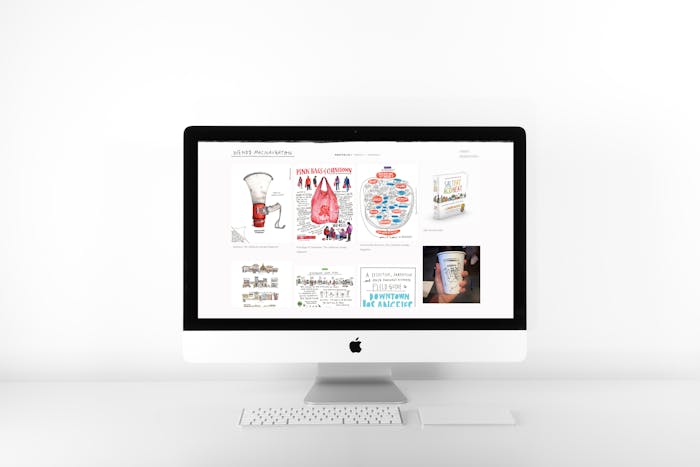 Websites are the virtual home pages of businesses and organizations. Sites let users view information about your business, follow you on social media, buy goods and services directly from you, and much more. Whether or not you have a website is a key determining factor for potential customers — whether they're browsing through search engine results or looking for local businesses on a directory site like Yelp. Websites are no longer an optional part of marketing strategy; they are now essential to the success of any business. Here are top 10 reasons why every business needs a website:
It's the easiest way to build your brand.
A website gives you a platform to introduce your brand and its values — what you do, who you help, and why you do it — to your customers and potential customers. You can share photos, videos, and text that showcase who you are and what you do in your own words. Because the internet has infinite space, you're not constrained by the length of a TV commercial or a magazine ad. Websites also allow you to link to other sites that discuss your products or services in ways you don't want to use your own site for — like government regulations, scientific studies, or other third-party information.
It's the most effective way to build your email list.
A website is the most effective way to build your email list because people have to give you their email address to sign up. There are other ways to build an email list — you can use pop-ups, pop-overs, or sidebars on your website, you can embed a sign-up form on your social media pages, or you can offer a free ebook or other resource. But the only way to get that email address is for someone to take an action — and that action can only happen after someone decides to enter into a relationship with you.
It's the best place to share your content.
Creating blog posts, podcasts, and videos to share with your audience is important, but if no one knows you exist, no one can benefit from your ideas. A website is the place to share your content. You can easily link social media pages to your website, but people can also find your content directly on your website.
It can improve your ad effectiveness.
As social media networks and online directories add more advertising, some users have turned to ad-blocking software or other methods to avoid seeing ads in their feeds. One way to make sure your ads get through to your potential customers is to host your ads on your website. You can host banner ads, text ads, and video ads from Facebook, Google, and other networks directly on your site, so those ads don't appear in feeds or get blocked. You don't have to use your website as a direct sales tool — you can use it to drive traffic to other pages on your website or to pages on your social media accounts.
It's a place where customers can find you.
If someone is searching for your product or service, or if they're looking for businesses like yours, they may find your website first. You can use search engine optimization (SEO) and various other strategies to make sure your website comes up in search results — but the more important reason your website appears is because you have a website. That's the first thing that people who are looking for your business — whether they're prospective customers or someone who wants to warn others about a bad experience — can find.
It gives you control over your brand's experience, from ads to reviews.
When you own your website, you control the ads, the design, the reviews, and all the other things that affect your customer's experience with your brand. You can moderate comments and delete content when you find it's not in line with your brand values, and you have the option to remove ads that you don't like or don't fit your business model. When you have your own site, you have the option to keep ads and sponsored posts that you like and remove ones that you don't.
Websites are now one of the most effective ways to sell things.
Landing pages, the single specific pages on your website that you're trying to drive traffic and sales to, are one of the most effective ways to sell things online. They let you use the full space on your website to sell a specific product or service and show customers exactly what they're going to get and why they should buy it. You can use landing pages to host online sales, send people to sign up for your email list, or get people to fill out a form to download an ebook or other resource.
A website is still the best first step in digital advertising.
Whether you're putting ads on social media, search engines, or other websites and apps, you're still building your brand. Consumers who use digital media services like social media and search engines to find information or conduct searches are often looking for products or services. You can put ads in front of them anywhere and everywhere, or you can start with a website. Building a website gives you the chance to get into your customers' and potential customers' heads from the start. It gives you a chance to introduce yourself and your brand, describe what you do, and create a connection with potential customers from the moment they enter your site.
Bottom line: A website is still one of the best ways to build a relationship with potential customers and show them why they should care about what you have to offer
If you're an established business, a website is the best way to reach out to new customers and show them why they should choose your business over the competition. If you're a new business, a website is the best way to tell the world that you exist — and show them why they should become your customers.